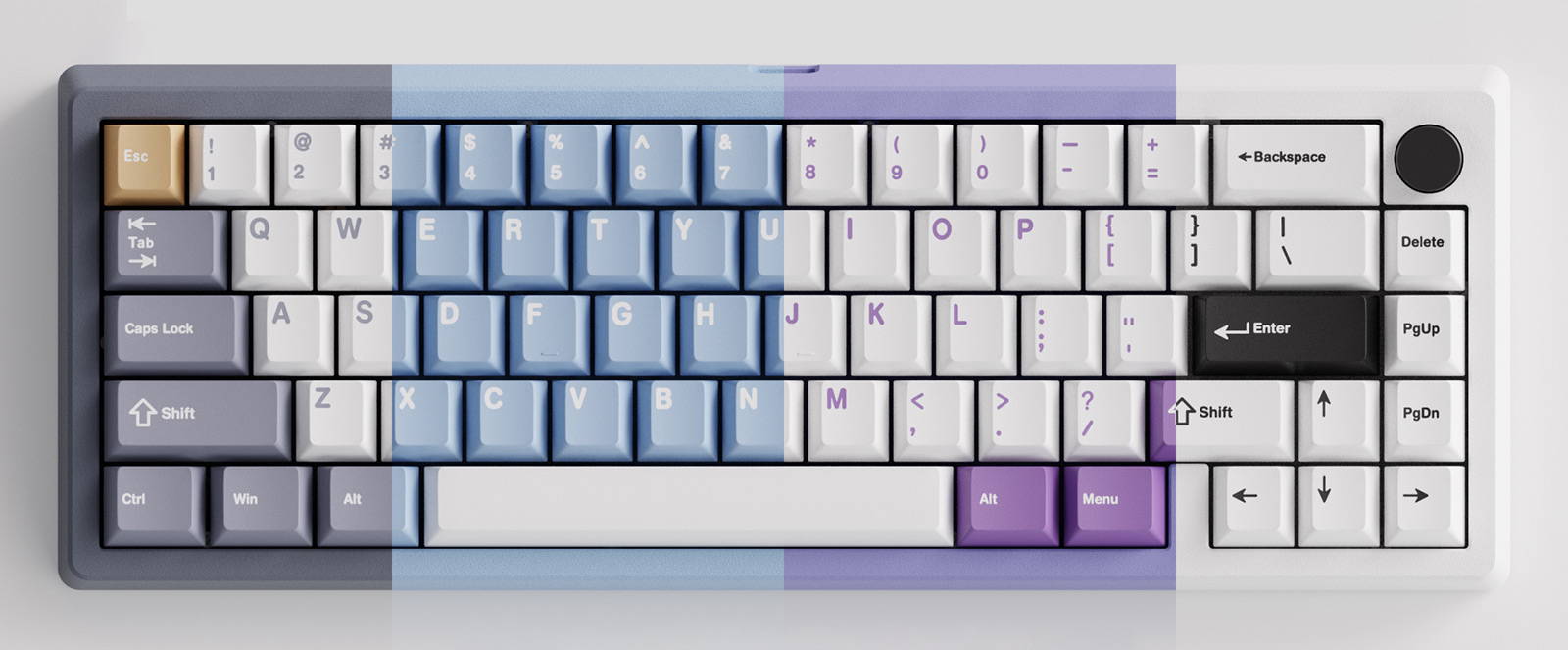 The Essential Edition is a barebones keyboard kit that comes with everything except for switches and keycaps.
It comes with a VIA compatible Bluetooth 5.0 PCB instead of a QMK/VIA wired PCB. It can still be used in wired mode. A battery is included.
There are over 90 unique combinations of case colors, knob and weight finishes.
An internal brass weight is available to purchase as an add-on. It's compatible with all Zoom65 released to date.
What's new in Round 2 - Prism weight & knob, 4 unique sets of dye-sub keycaps matching some Zoom65 colorways.
Visit Zoom65.com for more info on and photos of Zoom65 Essential Edition.
Pre-order ends 11:59 PM EST on October 1st October 3rd, 2022 or earlier if we approach the limit.
Depending on our workload volume at the time of fulfillment, we may choose to use a third party fulfillment service to deliver the Zoom65 to you for a quicker delivery time. Please do not order any other in-stock items with your Zoom65 as the fulfillment service will not have them at hand.
Canadian customers - please do not choose Xpresspost as a shipping method. Each Zoom65 comes with a battery packed inside but not installed in kit, Canada Post does not allow such items to be shipped using Xpresspost
You cannot combine Ocean Freight and Air Express items in the same order. Each individual order has to contain either all Ocean Freight or all Air Express items. This is because they arrive at different times
All of the extra knobs will be imported via Air Express. You can add that item in both Air Express and Ocean Freight orders
All the add-ons and accessories are compatible across all editions of Zoom65 to date.
Zoom65 Essential Edition will be imported from China into Canada via two separate shipping methods:
Arrives to Canada via a ship. Takes 45-70 days in transit. This is the standard import method used in most keyboard / deskmat group buys. It's much cheaper than Air Express but takes much longer to arrive.
All units ordered via Ocean Freight are scheduled to ship out Wuque Studio around mid December, 2022 and should arrive at Mech.land around March, 2023
Arrives to Canada via a cargo airplane, takes 7-10 days in transit. This import method is very expensive, as such some of the items brought over via Air Express have a markup added to cover the extra expenses
All units ordered via Air Express are scheduled to ship out Wuque Studio around mid December, 2022 and arrive at Mech.land around late December, 2022 - early January, 2023.