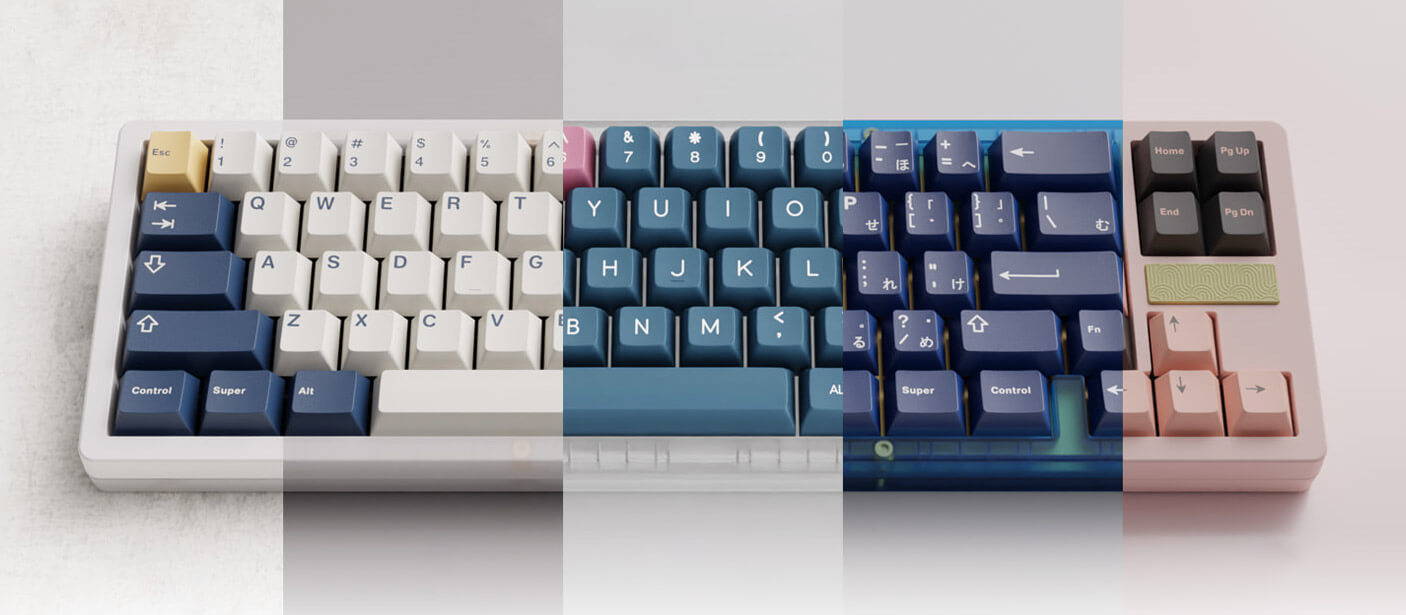 Aurora x Winter Breath
Aurora x Zen Pond
Aurora x Camping
Snow and Aurora x Zen Pond have an Aluminum top case and a Polycarbonate bottom case.
All the other variants have a Polycarbonate top and bottom case
A standard sized, widely available LiPo battery is required for Bluetooth variants but one is not included with the kit. You can purchase the battery from this page or source you your own.
Aurora R2 default PCBs Bodo and Iceland are 1.2mm thick. They are compatible with only 1.2mm stabilizers or 1.6mm stabilizers with spacers.
Standard Editions of Aurora R2 do not come with any stabilizers. Collab Editions come with color matched 6+1u stabilizers.
The first two pictures of Aurora x Winter Breath on this page are actual photographs in daylight conditions. The third picture is a render which is meant to show the design at the back. The design glows in the dark.
25% off EPBT Winter Breath
For a limited time get 25% off EPBT Winter Breath base kit when purchased with an Aurora x Winter Breath keyboard kit. Discount will be applied automatically during checkout.

This colorway comes with an e-white badge, as opposed to the gold badge shown in the renders. It may or may not have an additional gold badge in the box.
They're compatible with any Ikki68 Aurora (R1 or R2) released to date. They're hot-swap so you don't have to take apart the case to change badges
The free case promotion during the group buy phase is no longer active. Cases are sold separately on this page.
All Ikki68 Aurora R2 parts are compatible with R1, and vice versa.
Please read the kit contents at the bottom of this page before purchasing a kit.
Free FR4 plate with Aurora R2 Kits!
Get a free FR4 plate with every Aurora R2 order! Simply add an Aurora R2 from the add-ons product listing below to cart and the discount will take effect automatically.
If you forget to add the plate, please reach out to us before the order ships out. Once the order ships out we will not be able to honor the promo anymore.
Only Collab Edition Aurora R2 (Aurora x Camping, Aurora x Winter Breath, Aurora x Zen Pond) kits come with stabilizers.
All the other Aurora R2 kits do not come with stabilizers.
Only 1.2mm stabilizers are compatible with Ikki68 Aurora R2 default PCBs Bodo (Wired) and Iceland (Bluetooth). 1.6mm stabilizers can be used with shims (not included).
All other PCBs require 1.6mm stabilizers and will not work with 1.2mm stabilizers
1x Ikki68 Aurora top and bottom case. Aluminum top case for Snow and Aurora x Zen Pond, Polycarbonate for the rest.
1x PCB05 (Bodo) for wired Standard Editions, x Winter Breath, x Zen Pond & x Camping. PCB06 (Iceland) for wireless versions.
1x Hot-swap badge
1x Badge base
1x Default PC plate
1x Silicone dampening pad between PCB & plate
1x Silicone dampening pad between PCB & case
1x Silicon Gaskets Set
1x Poron Gaskets Set
1x Keyboard storage case
1x Coiled USB cable (Matches case color)
1x Wuque Studio logo chip, color matched to the plate.
1x blank logo chip color, color matched to the plate.
Extra stab washers, screws, diodes, sockets, keyboard feet, hex screwdriver
Case material: Injection molded Polycarbonate. Aurora Snow and x Zen Pond have an Aluminum top case
Default plate material: Polycarbonate
Weight (Fully assembled, Alu top case, PC bottom case, no optional weight): 830g
Weight (Fully assembled, full PC case, no optional weight): 720g
Optional Alu top case: 200g
Optional weight: 320g
Typing angle: 6.5 degrees
Dimensions: 13.6" x 4.4"
Base height: 0.9" tall without rubber feet