M•ONE is here with the newest iteration of the Ginkgo65, dubbed Ginkgo65 Pro! It's a 65% with waterfall edges, but there are some exciting new changes such as:
10 new case colors combinations!

Black core FR4 PCB

Individual key semi flex cut plates

Default PCB supports stepped caps lock and 7u spacebar

Improved IXPE foam

Stabilizers and storage case included
You can choose to have the default PCB with or without flex cuts. There's a PET insulation plate included to prevent shorts on ultra flexy builds.
You can also choose between 4 finishes for the ginkgo leaf accent weight.
Also new this round - optional blockers in 10 different colors/finishes. They're sold separately and one is not included with the kit.
Ginkgo65 Pro uses a new mounting system. These new swan gasket module offers a more fun, bouncier typing experience!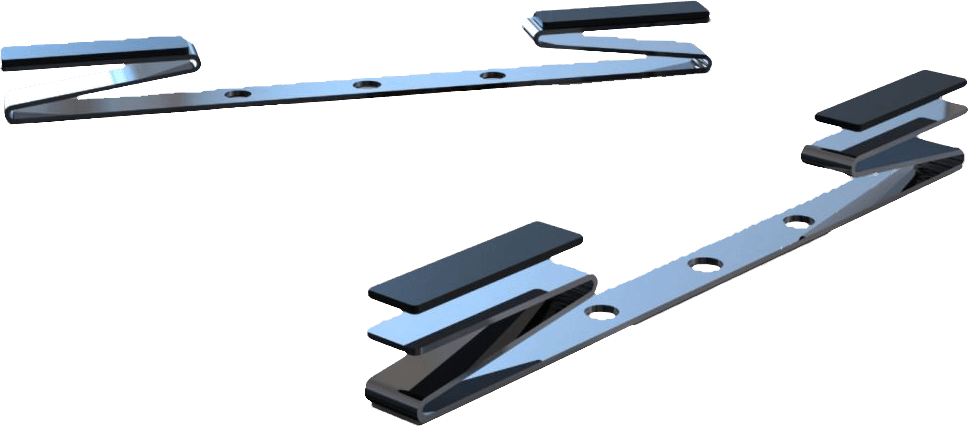 10 beautiful color combinations to choose from, fully CNC machined 6063 aluminum.

Many options in blockers and weight
Choose from 4 different materials / finishes for bottom case ginkgo leaf weight.
Blockers are optional and sold separately.
A blocker is not included with the keyboard kit. They are optional and are sold separately.
Please read the Group Buy Policies tab before placing an order.
The group buy starts at 12:00 AM EST on March 15, 2023.
Group buy ends at 11:59 PM PST on April 3, 2023
This is a group buy. Ginkgo65 Pro will enter production after the group buy phase.
All units will arrive to us via Ocean Freight. We're expecting them to arrive to our warehouse sometime in Q3, 2023.
Please keep in mind the ETA is just our best guess according to the information currently available to us. Unexpected issues and delays can happen at every stage of the process.
Please refer to the Status Updates page for any future updates regarding this project.
Please do not add any in-stock items in any Ginkgo65 Pro order. All orders ship only when every item is ready to ship. Ginkgo65 Pro is not expected to arrive for a few months and it's not possible to hold on to in-stock items until then.
Please read the group buy policies in the tab above. This is a group buy item, as such the policies are slightly different than regular in-stock items.
Please read the kit contents section below to see what's included in
You cannot add any in-stock items to your order as we cannot guarantee its availability when the group buy is ready to ship.
You cannot combine this group buy order with a previous order as we cannot hold on to an order until the other one arrives.
You may modify your order until the group buy ends on April 3, 2023


Please send an email to help@mech.land from the email address associated with your order and list the changes you'd like to see made.
You may cancel your order and get a refund until the group buy ends on April 3, 2023
Please keep in mind we will deduct 4% of the total from the refund as we do not get the transaction fees back from our payment processor.
Any status updates pertaining to this group buy will be posted in the status updates page.


Please follow the instructions on the contact us page if you need to change your address before the group buy ships.

Aluminum top & bottom case
PVD SS logo weight of buyer's choice

NO BLOCKER INCLUDED

Polycarbonate plate
Hotswap PCB. Buyer's choice of with or without flex-cuts
Ai03 Universal Daughterboard
M•ONE stabilizers
Poron dampener kit (includes PET insulation plate)
Swan Gasket modules
Silicone gasket sleeves
Feet
Screws and hex key
Storage case
Typing angle:

7 degrees

Dimensions:

321mm x 120mm x 33mm or 12.6" x 4.7" x 1.29".

Front height: 19mm or 0.76"
Weight (unbuilt:) 2.87 LBS or 1.3 KG
Case material: 6063 Aluminum
Mounting method: Gasket mount using gasket modules
Hot-swap sockets. 1.2mm thick with Ai03 Daughterboard

QMK / VIA support

Supports stepped capslock & 7u layout

ESD protection
Small scratches inside the keyboard case, or dents on the case that are not visible when the keyboard is fully built. These are normal and within our quality acceptance.


Since there are so many variations, renders are for display purposes only. The renders are given to provide an idea to what the final product will look like. The physical product may have some differences. Please also refer to the prototype's photos as reference before purchasing.