All zoom75 Oct 23 Batch will be imported into canada via Ocean freight. Air Express is not being offered this round
you must add the early bird bonus cap to cart and check out with it. it's not added automatically
the knob module is the default module in every zoom75 kit. the wired PCB is not compatible with the screen module
All zoom65/75/98 and Zoompad knobs are compatible with each other.
Nightlight knobs fit on Zoom75 but they do not illuminate.
Zoom98 modules are not compatible with Zoom75 and vice versa.
Zoom75 and zoom98 badges are compatible with each other.
You can add Zoom75 Oct 23 batch items in the same order as Zoompad Oct 23 batch or Zoom98 Ocean Freight items.
THEY ARE ALL SCHEDULED TO ARRIVE TO US TOGETHER AT THE SAME TIME AROUND MARCH, 2023.
PLEASE DO NOT COMBINE ZOOM75, ZOOMPAD OR ZOOM98 OCEAN FREIGHT ITEMS WITH ZOOM98 AIR EXPRESS ITEMS OR ANY IN-STOCK ITEMS.
Special collaboration with GMK Kitsune. Comes with a badge and both the Badge Module and the Knob Module.
Top & Bottom Case: Navy

Case Finish: Anodized

Weight: Anodized Navy (Aluminum)
Backplate: Glass Rose Gold
Badge: 1x Kitsune badge
Modules include: Knob Module, Badge Module

Accent chamfer color: None
Engraving: All around the case
Arrives to Canada via a ship. Takes 45-70 days in transit. This is the standard import method used in most keyboard / deskmat group buys. It's much cheaper than Air Express but takes much longer to arrive.


All units ordered via Ocean Freight are scheduled to ship out of Meletrix around January, 2023 and should arrive at Mech.land sometime around March, 2023
Air Express is not being offered for Zoom75 Oct 23 batch.
You cannot combine Ocean Freight and Air Express items in the same order. Each individual order has to contain either all Ocean Freight or all Air Express items. This is because they arrive at different times
Please keep in mind the ETA is just our best guess according to the information currently available to us. Unexpected issues and delays can happen at every stage of the process.
You cannot add any in-stock items to your order as we cannot guarantee its availability when the group buy is ready to ship.
You cannot combine this group buy order with a previous order as we cannot hold on to an order until the other one arrives.
You may modify your order until the group buy ends on Oct 30, 2022


Please send an email to help@mech.land from the email address associated with your order and list the changes you'd like to see made.
You may cancel your order and get a refund until the group buy ends on Oct 30, 2022
Please keep in mind we will deduct 4% of the total from the refund as we do not get the transaction fees back from our payment processor.
Any status updates pertaining to this group buy will be posted in the status updates page.


Please follow the instructions on the contact us page if you need to change your address before the group buy ships.
Zoom75 x Kitsune Kit Contents
- Aluminum top and bottom case
- Aluminum external weight
- Glass backplate.
- Knob module kit (matches case color, knob not included)

- Badge module kit
- 1x Kitsune badge
- 2x Flexible flat cable for module

- Hot-swap, multi-layout, Tri-mode / VIA PCB with per-key RGB with or without flex cuts*
- Daughterboard + JST cable
- 2.4Ghz receiver
- Polycarbonate plate
- Gasket sleeves

- PORON Dampening Kit

- Set of WS Stabilizers V3 (TPU)

- 2x Li-ion battery

- Coiled USB-C cable
- Silicone keyboard feet
- Screws and other installation tools

- Storage case
* User customizable option in terms of functionality, color, material and/or finish.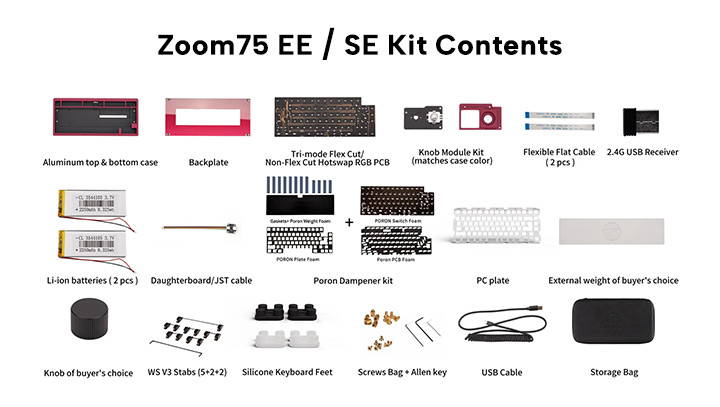 - Gasket mount design
- 75% layout
- 1.2mm PCB with Ai03 Universal DB
- Default plate: Polycarbonate
- 5° Typing angle
- 22mm front height
- Case dimension is 323.6 x 145.8 x 34.7mm or 12.74 x 5.74 x 1.37 inches.

- Finish treatment: Electrostatic coated, anodized, electrophoresis and nano cated, depending on edition and color.

- Default Tri-mode PCB in EE, SE & Kitsune can be used in wired, Bluetooth or RF mode with the USB receiver.

- Tri-mode PCB supports VIA and not QMK, wired PCB supports QMK but not VIA.

- Tri-mode PCB BT polling rate: 125hz

- Tri-mode PCB 2.4GHz polling rate: 1000hz

- Tri-mode PCB wired mode & wired PCB polling rate: 1000hz

- Essential kit with Alu knob / weight / Glass Mirror Back Plate: 1.74 kg

- Essential kit with brass knob / PVD SS weight / Glass Mirror Back Plate: 2.03kg
- Essential kit with Alu knob / weight /PVD Back Plate: 1.87 kg
- Essential kit with brass knob / PVD SS weight / PVD Back Plate: 2.15 kg
- Internal stainless steel weight (sold separately) weight: 358g.

Quality Control Guidelines
Please refer to this document to see what kind of oddities qualify as flaws and what don't.
Since there are so many variations, many of the images provided on the product page are renders and are for display purposes only. The renders are given to provide an idea to what the final product will look like. The physical product may have some differences. Please also refer to the prototype's photos as reference before purchasing.
Route shipping insurance has been added as an option during checkout. We recommend it in case your package gets lost in transit from us to you, or is stolen after delivery. This is not required for local pickup orders.